Certifeid Reiki Level I, One Day Courses in Richmond

One Day & Home Study with Practice.
Reiki Level I Sample Overview​

9am -  Class Introduction


9.30am - What is Reiki
10.00am The History of Usui Reiki 
10.30am 15 minute break/discussion
10.45am How Reiki Works & Life Habits
​
11.15am Chakras & 5 Reiki Principles
12pm Break for Lunch (please bring your own)
1.30pm - Preparing for Reiki Level I & Overview of Biology of Our Bodies
2.00pm -  Reiki Self-Treatment
& Other Uses of Reiki in Daily Life

3pm - Attunement Ceremony
4.15pm - Reiki Self-Treatment
& Other Uses of Reiki in Daily Life

5pm Close, Certification & Course Summary

Step one on your Reiki journey, discover the history of Reiki, how it works & develop your skills to perform self-reiki sessions. Reiki is an amazing energy healing modality that once you are attuned to Reiki you are attuned for life. The workshop covers the history, philosophy and practical theory of Traditional Usui Reiki, with western input.
You will receive the Reiki Leve1 I Attunement, enabling you to use Reiki for self-healing. We will cover the chakras and how our thoughts affect our mind, body & soul leading to issues internally. Reiki removes emotional, physical & mental blockages. We will also cover how you can use Reiki to enhance your daily life & that of those around you.

Level I is a practitioners initiation into Reiki and is open to everyone, we all have Reiki energy within us, it just needs to be 'woken up' with the attunements and use of symbols. **Email emma@handserenity.com for group dates & one-one training.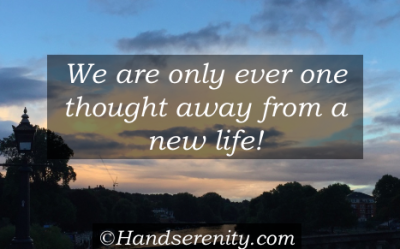 Usui Reiki One Workshop next Training Dates: ​
Tuesday 4th July 2017 9.15am - 4.00pm.

Friday ​11th July 2017 9.15am - 4.00pm.

or Saturday 22nd July 2017 9.15am-4.00pm

Email emma@handserenity.com with the date you prefer once the deposit has been paid & we can get you booked in & the manual sent out for some studying prior to the workshops.

Reiki Refresher Courses are available upon request for all levels, I, II &

Master / Teacher, message emma@handserenity.com or call 07949089265.